When regular health care fails, Holistic wellness is the way to go.
Don't wait until it fails. Choose the wellness way. Start at Carib Health.
The 20-year journey to weight loss
Carib Nutrition Consultants
Every chronic disease has an underlying nutritional deficiency, and it takes an experienced nutritionist to figure it out. We have an experienced team of adult, geriatric, pediatric, and pregnancy nutritionists that are just a phone call away.
From 40+ years of medical and nutritional consulting experience, we have figured out the 5 Roots of Wellness that will help you live a healthier and happy life. When you understand those roots of wellness, you will get to decide the days you want to fall sick.
Need Assistance? Call: 0809-378-4455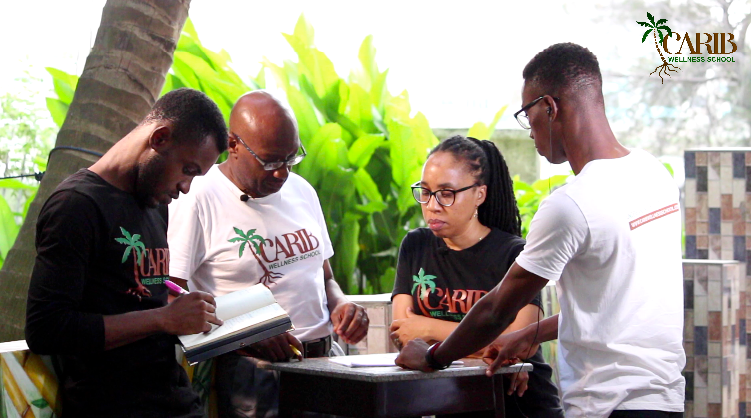 Gain exclusive access to health insights on our webinars; yearly consultation packages for individuals, families, and corporate bodies; and, amazing discounts on our wellness products and services.
Here, our goal is to help you identify the root cause of the illness, by diagnosing, and patiently guide you through a holistic therapy that restores you back to great health.
Check out our range of wellness products, all made from purely natural and organic produce.
We are creating a parallel wellness ecosystem
Art painting, vitamin infusion, supplements, meditation, laughter, steam sauna, and mud bath sessions.
Nutrition, Holistic, Medical, Mind-body consultation, and detox programs.
African dance, tai-chi, rebounding, yoga, and grounding, and more.
Reflexology, afro-Thai massage, acupressure, and acupuncture.
Home away from home, healthy weekend getaway, and in-patient services.
Organic Garden, Farms & Shop
We deliver fresh, natural fruits and vegetables to your doorstep.
Read the stories of people who have chosen the wellness way
I love your Holistic approach to medicine Doc! My mom feels better without the side effects of modern medicines. May God continue to use you to heal others.
From 4.5kg after 3-day detox. I couldn't believe it!!! From feeling unwell and just run down. Decided to try a detox. I feel lighter, weight down, and just overall better.