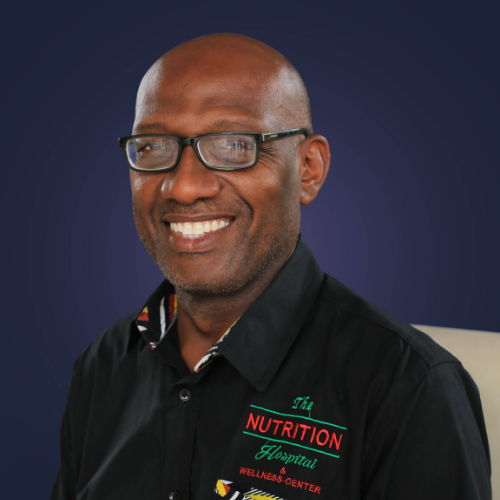 Dr. Patrick A. Ijewere, B.Sc.Chem, B.Pharm. MD, MBA
"A team player set on transforming healthcare in Africa."
A product of St. Gregory's College, Obalende, Lagos, his journey through tertiary academia began from age 15 at Case Western Reserve University, Cleveland, Ohio, USA.
He earned a Bachelor's degree in Chemistry from George Washington University 1986, Washington D.C., followed by Bachelors in Pharmacy (honors) from Howard University 1989, Washington D.C. 
Medical College at Howard University 2003, (honors) with an MD degree, and then Specialty training in Internal Medicine 1996 at Johns Hopkins University, Baltimore, Maryland.
He accomplished an Executive MBA at the University of South Florida, Tampa in 2003.
Professional exposure in Florida for 15 years, as an Internist, a Hospitalist, Emergency Room (ER) Physician, and a Ringside Sports Physician for Florida State. He pioneered St Patrick Medical P.A., which had 5 clinics in Central Florida, amongst other clients, served the Florida State Dept of Health, and U.S. Dept of Homeland Security.
Upon return to Nigeria, he impacted healthcare in several ways.
• Leader, Servant, and Mentor – Pioneer Medical Director of Salus Trust, the Catholic church's HMO with over 320 catholic hospitals and clinics nationwide, spread within 52 dioceses.
• Listener and Systems Analyst – Met with providers nationwide to understand challenges with healthcare delivery in Nigeria. Inspected, assessed state of healthcare services in over 150 healthcare facilities nationwide in 18 months, graded and identified needs for improvement.
• A Speaker and Motivator – Created awareness on staying healthy (Wellness) and preventing illness by giving health talks on preventive health, proper use of medications, and nutrition.
• Impact – Ilorin, Kabba, Anyigba, Akure, Ekiti, Osogbo, Ogbomosho, Ife, Ibadan, Iwo, Owo, Ondo, Abeokuta, Ayetoro, Ijebu-ode, Benin, Ekpoma, Auchi, Uromi, Agbor, Asaba, Sapele, Warri, Bomadi, Ugwashi-Uku, Ughelli, Issele-Uku, Calabar, Port Harcourt, Yenogoa, Obehie, Awka, Awgu, Orlu, Okigwe, Ahiara, Owerri, Nnewi, Umuahia, Emene, Enugu, Aba, Abakaliki, Minna, Kafanchan, Jos, Abuja, Zaria, Badagry, Ikorodu, Ikeja, Agege, Alaba, Lekki, Epe.
Currently, CEO/Founder of "The Nutrition Hospital & Wellness Center", Ikoyi, Lagos. Focus is prevention and reversal of chronic degenerative diseases, such as Diabetes, Hypertension, Asthma, Allergies, Arthritis, Depression, Dementia, Liver disease, Cancer, Autoimmune disorders (Lupus, RA, Autism, MS, Crohn's), using a Nutritional, Natural, Wellness model.
He has been featured on TV and Radio programs NTA, TVC, Channels TV, Wazobia TV, Cool FM, Smooth FM, Classic FM, discussing Wellness, Agriculture, Environment, and GMO issues.
Hobbies include dancing, reading, walking, tennis, traveling, and watching comedy. He LOVES MUSIC !!!! From 1998 to 2008, on weekends, he was "DJ Dr" at Naija parties in Florida, USA, as well as, radio host & DJ of "Sound Safari," a weekly program on WMNF-88.5fm Tampa, Florida, spinning music of Africa and the African Diaspora…(Caribbean, South America and beyond…)
Currently, Dr. Patrick Ijewere hosts a weekly radio program, "Wellness Half-hour" on Inspiration FM, 92.3fm, Sundays at 1pm. Listen live or online www.ifm923.com.
BOOK AN APPOINTMENT WITH DR. PATRICK IJEWERE
Instagram: @drpatrickijewere
She is from Jamaica, married to a Nigerian, and is the founder/CEO of Carib Health Ltd, a Health, Wellness, and Nutrition company in Ikoyi. She is also the co-founder of The Nutrition Hospital. She is a Professional Consultant in the field of Nutrition. Certified and clinically trained with 18 years plus experience and practices Medical Nutrition Therapies.
She has written several health columns for Thisday Newspapers, Guardian Life, and magazines including TW, Woman Leader, Parenting Magazine to name a few.
She is often on the radio (92.3fm Inspiration FM and 98.1 Smooth FM) and has had appearances on Channels TV, NTA and Silverbird TV.
She consults for a number of Medical facilities including First Cardiology Consultants, Euracare Multispecialist Hospital, Marcell Ruth Cancer Center & The Nutrition Hospital, Ikoyi.
Carib Health Nutrition Consultants help clients improve on their health reducing disease burden from – Obesity, Diabetes, Hypertension, High Cholesterol, Fatty liver disease, Heart disease, Kidney disease, Arthritis, Infertility, Cancer and a host of inflammatory conditions. Sherese is also trained in the area of Bariatric Nutrition Management.
She is a member of the American College of Lifestyle Medicine, American Society for Nutrition and Society of Lifestyle Medicine in Nigeria.
Sherese Ijewere is passionate about educating you on having a better life through Nutrition. Her hobbies include reading, African Dance, and recently she started teaching Rebounding. She enjoys spending time with her family. She is blessed with a wonderful husband and 4 loving teenagers.
Instagram: @caribhealthng